---

Bridging knowledge across specialties
NEWS
---
---
01.12.2017 A limited amount of up to 50 reduced registration fees for (regular or student) participants under the age of 35 will be available for participants working or studying in certain countries. See conditions here

---
1.12.2017 There are many joint sessions which EFOMP will co-host together with other organisations. ECMP 2018 offers a platform to our partner disciplines and societies with the purpose of fostering collaboration across boundaries and disciplines. Please see the program here
---
30.11.2017 Follow ECMP 2018 on facebook
---
15.11.2017 This year ECMP will welcome Germany (DGMP). Germany will organize one Refresher Course and two scientific sessions. Please see the programme here
---
Announcement - The EFOMP Examination Board (EEB) will organize its examinations on 21 - 22 August 2018 in Copenhagen.
---
The Niels Bohr Institute is organizing a summer school on Imaging Modalities in Medical Physics in connection with the ECMP.
---
We are inviting you to register for the 2nd European Congress of Medical Physics.
---
Abstract submission is now open. Please submit abstracts before 22 January 2018.
---
There will be four refresher courses each day at the congress
---
Follow ECMP 2018
---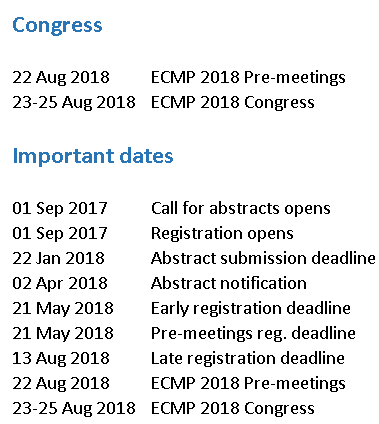 ---
Congress venue
H.C. Ørsted Instituttet
Universitetsparken 5
DK-2100 Copenhagen Ø
Denmark
---
Contact us
ECMP Congress Secretariat:
C/O CAP Partner
Nordre Fasanvej 113, 2.
DK-2000 Frederiksberg
Denmark
Phone:+45 70 20 03 05
Fax: +45 70 20 03 15
Email: info@cap-partner.eu
---